Desperate goal of Biden's trip to Europe named: mission failed
U.S. President Wants to Keep 'Ukrainian Coalition Integrity'
U.S. President Joe Biden is heading to Europe later this week in hopes of maintaining the integrity of the Western coalition in support of Ukraine. Observers note that the head of the White House has a more difficult task to solve than the last time the president traveled to the European continent.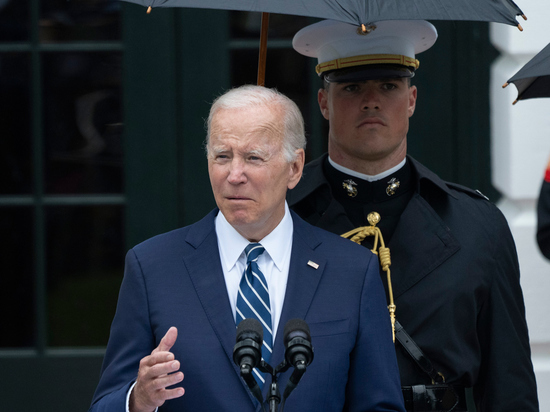 Photo: Global Look Press
The Ukrainian conflict continues, "but the mission of President Joe Biden is now very different," notes Politico. When Biden was last in Europe, just weeks after the events in Ukraine began, his task was to forge a shaky alliance overwhelmed by the onslaught of Russia.
But now Biden is back across the Atlantic for a couple of summits with a new assignment: keep the European continent committed to a common cause, as the conflict could continue for many more months and cause continued global economic tension. In many ways, Biden's job next week will be more challenging, Politico predicts.
The international media is beginning to lose keen interest in the Ukrainian conflict, and the US president is about to convince other Western leaders whose economies have been hit by rising inflation to continue sending money and weapons to Ukraine.
Some of Biden's colleagues have suffered from scandals and defeats, their political position has weakened, writes Politico (suffice it to recall the bad outcome for Macron in the parliamentary elections in France and Johnson's "Pyrrhic victory" following the vote of confidence). And Biden himself is seeing his poll ratings plummet as spending rises, and the United States is nervously awaiting a Supreme Court ruling that could overturn abortion rights and turn the tide while the president handles foreign affairs.
"Now he has a tougher job because of all the economic issues, but there is still support," says former US ambassador to Ukraine William Taylor. "For now, the Europeans are gritting their teeth and staying the course, even though they have bigger oil and natural gas problems than we do."
"But the way to save the union is to pave the way forward, the way to success," Taylor insists. "That's what a president should do."
Biden will have two stops in Europe after the presidential Air Force One takes off from Andrews Air Force Base on Saturday: first in Germany for the G-7 summit. ), and then to a meeting of NATO leaders in Spain.
Biden has received high marks — even from some Republicans — for his handling of the Ukraine crisis, but White House aides have come to terms with the reality that it probably won't help in the midterm vote this fall, as inflation and other issues are likely to prevail.
Advisors say Biden will use European trip to push allies to stay on course, saying Ukraine needs to be defended not only to deter Russia's advance, but to send a message of united democracies to the world , namely China.
The agenda, according to the White House, aims to show support for Ukraine as it tries to deal with disruptions caused by conflict in the global economy, namely energy and food prices.
Biden plans more once again support Finland's and Sweden's bids for NATO membership, working to assuage Turkey's objections. The White House suggested that the US President would also champion the Global Infrastructure Initiative and hinted that more sanctions could be imposed on Russia.
"He came to power with the specific purpose of resurrecting and strengthening our allies and partnerships around the world, and that is exactly what he did," said John Kirby of the White House National Security Council. "He raised these partnerships to meet the major challenges of our time."
A year ago, Biden met with the G7 in Britain and was hailed for heralding a return to "normality" after Donald Trump's tumultuous rule. At the time, Politico notes, Russia, whose president Biden met in Geneva, was seen mostly as a nuisance, a threat that paled in comparison to the challenges posed by China and the fight to vaccinate the world against COVID-19. Everything changed after the start of the Ukrainian crisis.
When Biden visited Brussels and Poland this March, he pushed Europe to balance the moral and geopolitical imperative to act on behalf of Ukraine, along with fears of a further escalation of the conflict and the economic costs of imposing an aggressive sanctions regime against Russia, writes Politico.
Despite the fact that the West has imposed a whole series of punitive sanctions against Russia, it has not achieved its goals. Moreover, as the conflict in Ukraine continues, "tensions have begun to emerge among the allies," acknowledges Politico.
While Washington has authorized tens of billions of dollars in funding for Ukraine, there are questions about whether some countries, notably Germany, have contributed their fair share to Kyiv. The blockade of Ukrainian Black Sea ports has contributed to a sharp rise in food prices, exacerbating the pandemic-induced inflation that has gripped much of the world. And sanctions against Russia, as well as bans on part of its energy sector, led to a sharp increase in gas prices.
Some in Europe have tried to push Ukrainian President Volodymyr Zelensky to the negotiating table, believing that a brokered resolution could save lives and stabilize the economy. But Zelenskiy has refused any territorial concessions.
Biden himself, as Politico notes, will arrive in Europe politically weaker than during his last trip in March, his approval rating eroded by inflation as Democrats fear defeat in the interim elections in November.
Some of Biden's closest allies have recently suffered political setbacks – British Prime Minister Boris Johnson narrowly survived a no-confidence vote and French President Macron suffered a crushing defeat in Parliament – which could complicate their resolve.
"Despite the fact that Since the French president has significant influence on foreign policy issues, his weakened stance is likely to lead to a more cautious stance, said Charles Kupchan, a senior fellow at the Council on Foreign Relations and a professor at Georgetown University. This is "bad news for the United States as Washington is counting on Europe to take on more geopolitical responsibility."
In recent weeks, many Western leaders have made surprise visits to Ukraine, and rumors have circulated in Washington that Biden will do the same while in Europe. But this week, the White House downplayed that possibility, citing the incredible security efforts required for a president to visit a conflict zone safely. Far more likely, the aides suggested, is that the clandestine visit could take place at a later time.